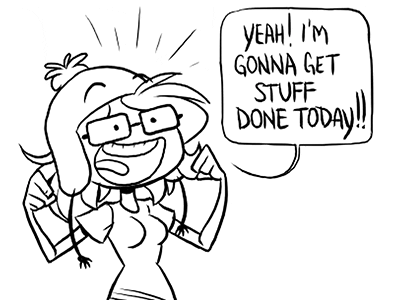 About a week ago, I set a goal for myself: I was going to commit to one hour of artwork every day for 15 days. I've tried to set similar goals for myself in the past, but I have never given myself an end date before. Apparently that was the magical motivational ingredient I needed! To my surprise, it worked!
I've tried committing to 5 hours a week, or 1 hour a day in the past, but eventually my commitment wanes, life happens and other priorities take over, or I get bored or stuck or frustrated. Once that happens, I tend to admit failure or defeat and lose my motivation altogether. Can anybody relate? 
Even a commitment to 20 minutes a day becomes a daunting task when it has to go on forever. It seems like common sense that short-term goals are more easily reached than long-term ones, so why hadn't I thought of it earlier? By breaking up my long-term goal into many shorter ones, like 15 day sprints, I actually feel successful, proud of myself, on track and encouraged to continue.
I will admit that my energy did start to wane toward the end and I was tempted to skip days, but knowing I only had a short period of time left to reach the finish line, I was able to push myself that much more. If I hadn't put a 15 day limit on it, I may have repeated the past and given up completely by day 10, and felt discouraged about my progress. With only a few days left to go, I will have dedicated 15+ more hours into my latest work in progress. The completion of a new piece of artwork is in sight; therefore, I hope to have something new to share with you soon. Now …back to work.