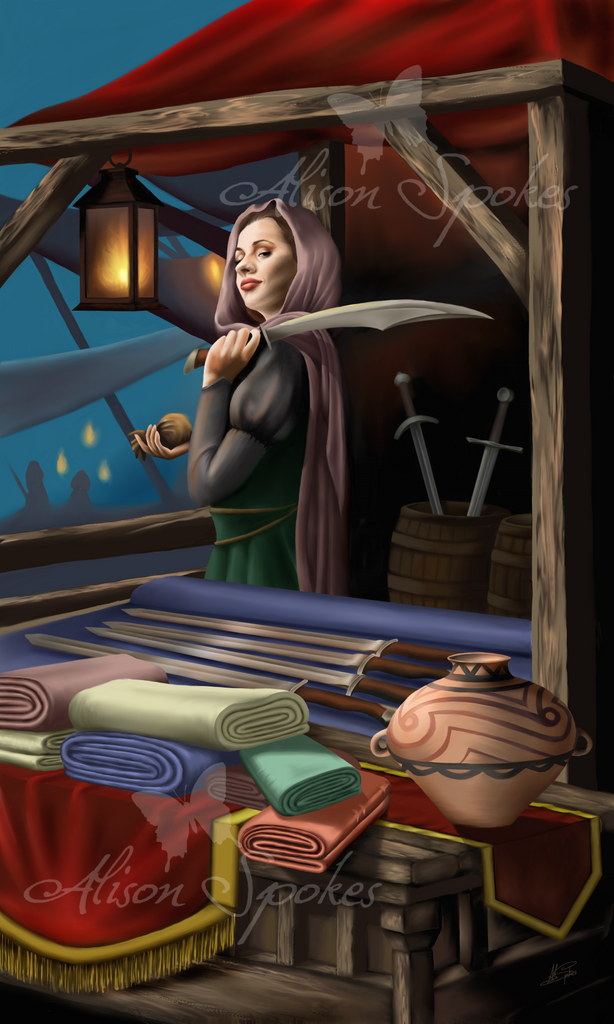 Seven of Swords - Limited Edition Art Print
$42.00 $42.00
A dodgy hooded salesperson peers over her shoulder in her night market stall. Four contraband swords are unwrapped and laid out on the table for potential buyers to view. The shady merchant casually rests a curved sword on her shoulder while holding a coin purse in her other hand. She looks persuasive, intimidating and untrustworthy. In the foreground are bolts of fabric and pottery displayed on her table to distract from her more profitable and illegally obtained goods. 

This is a limited edition print of 150, signed and numbered by the artist.
Image Size: 9"x15"
Paper Size: 11"x17"

Each print is made by the artist using archival quality giclee ink and printed on fade, smudge and water-resistant watercolor paper. Prints are shipped flat and packaged with a 100% recycled acid-free backer board in a clear, protective re-sealable bag.

Watermarks do not appear on the actual print.

"Seven of Swords" was created as part of the 78 Tarot Project, MAGICAL edition. See the other 79 cards + complete Oracle companion deck or back this project on Kickstarter until August 18, 2022.

NOTE: This listing is for the print, not the tarot deck.

ALL ART PRINTS SHIP FREE TO CANADA AND USA!