Looking for answers, clarity, insight or advice? Book a reading!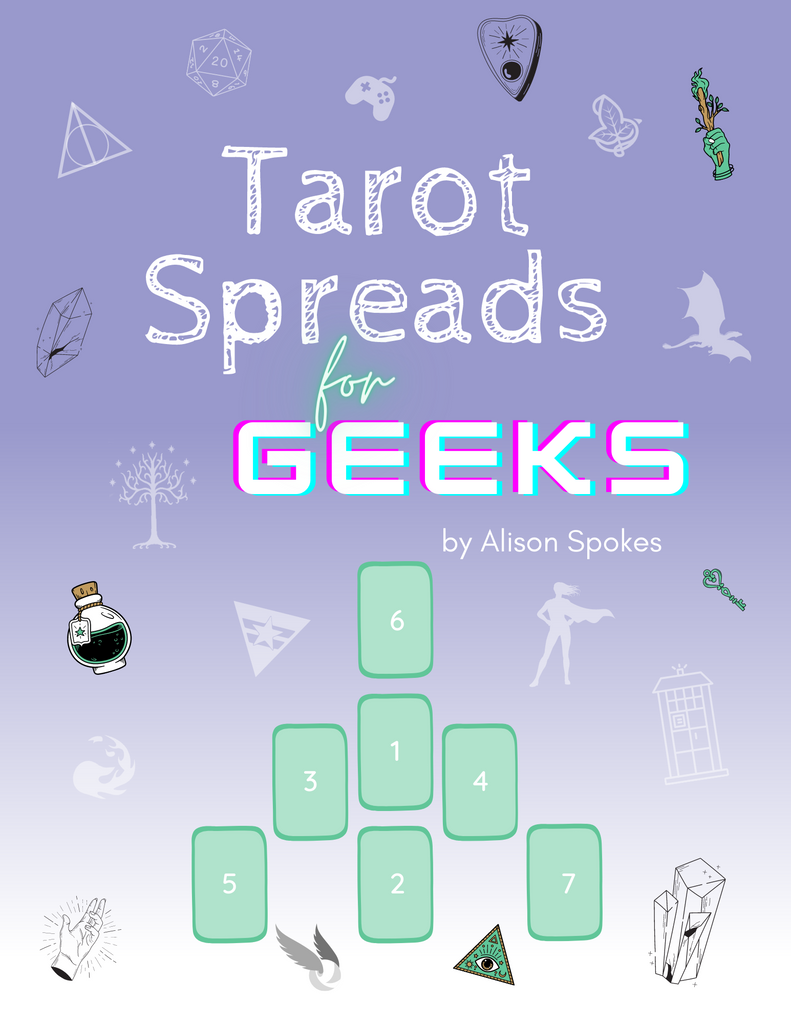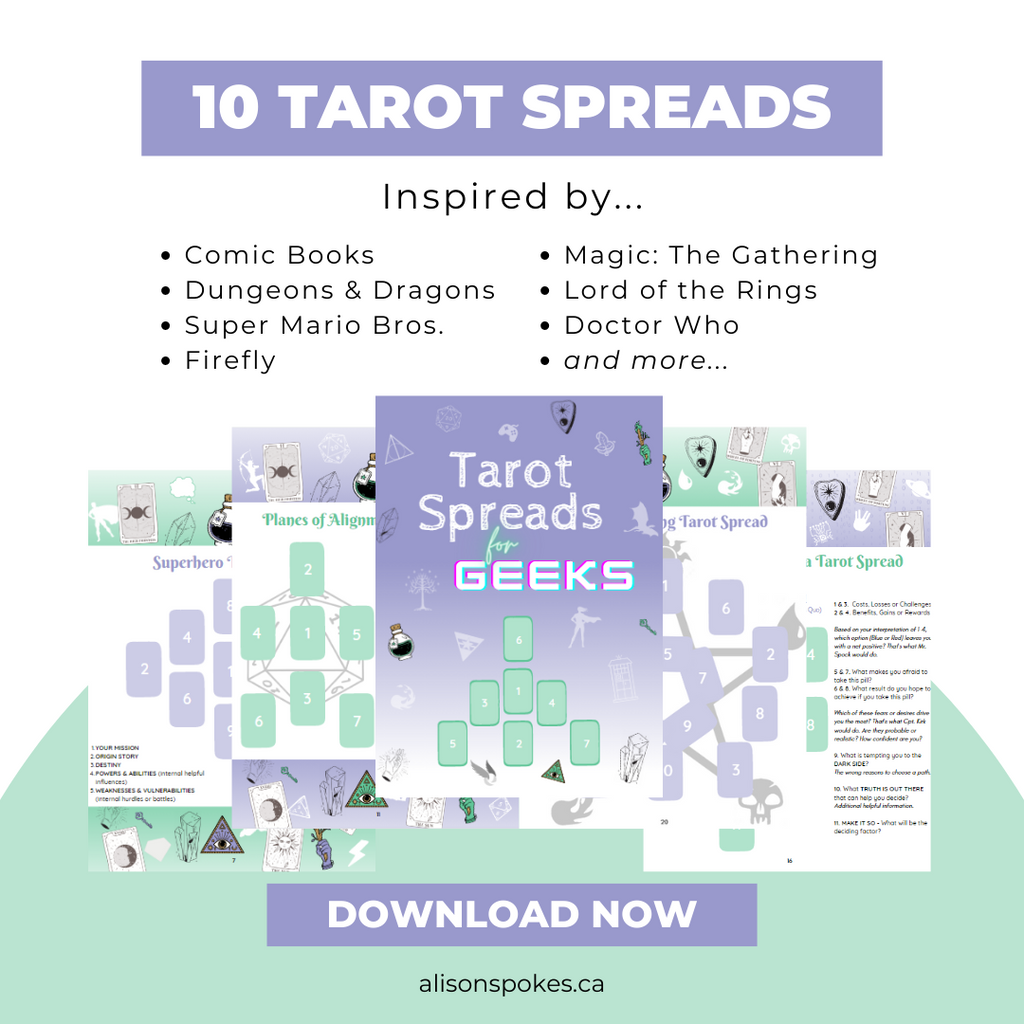 Tarot Spreads for Geeks (ebook) - Printable .pdf Download
$6.66 $8.88
Level up your tarot game with this digital download! Tarot Spreads for Geeks is a printable e-book of 10 tarot spreads inspired by everyone's favorite franchises from sci-fi, fantasy, comic books and gaming. Find the perfect tarot spread for any question with this printable .pdf download.
This 23 page e-booklet includes tarot spreads for: 
Romance
Manifesting
Problem Solving
Making Decisions
Personal Development
Tough Times
Pop-culture themes for these spreads include: 

Comic Books
Lord of the Rings
Doctor Who
Firefly
The Matrix
Mario Brothers
Magic: The Gathering
Dungeons & Dragons
The Princess Bride
Harry Potter
...and more!
Testamonials
Alison's menu was too much for this decision-paralyzed libra, but I sent her a note with outlines of a question and a proposal that I'd like a session with the Pokemon deck. What I got was insightful and wonderful! I'm only a novice at Pokemon Go, so the descriptions were great, and at least 1/3 of the cards were ME and Alison and I have not actually met. She adapted her reading to my question and thought of approaches that I hadn't. I'll be happy to do it again some time!
Walter
Tarot Client
Alison is very gifted in the ways the utlizes her cards, especially with the Star Wars deck, it was cool how she used the strengths and weaknesses in each character and used that towards guiding me through it. There was a lot of self reflective information she shared to help me along my journey. And I really appreciate that follow up after some time has passed after the reading. Very genuine and caring were the vibes I got from her gifts that she shared.
April
Tarot Client
I had an online Tarot reading with Alison utilizing the Star Wars Tarot cards. Not only did I find her reading was clear and accurate, but I could relate to the characters on the Tarot cards, having watched the movies. Actually the online reading is very helpful. Everything is written down for you to refer to later. I find when I'm at a personal reading, I tend to forget some of the important messages or am busy writing notes and missing nuances.
Terri
Client
Alison is amazing! Her tarot reads are fun and insightful! There are so many unique spreads and deck choices that you'll always have something suited to your needs. Highly recommend!!!
Amanda
Client
Just last week I decided to make a new 5 year goal and one of the cards in my reading today with Alison validated that it was time to make a 5 year goal. It said those exact words. The reading also specifically referred to spending my next year in a world that I create with my imagination, I am a water colour artist and a novelist and spend most of my time in my made-up world, story telling. That sung to me! One of my weaknesses is that I have a high tolerance level for ppl who do not have my best interest in mind and this reading also reminded me of using boundaries with acquaintances that take advantage of kindness. Great reading!
Tracey
Client