Praise for Alison's Tarot Offers
"I played Hodge on the TV show, and so it was really fun to experience a Shadowhunters-themed tarot reading. : ) Thanks again!"
 "Friends and I decided to get our first readings done together for a laugh and ended up leaving filled with joy, mindfulness, and reflection. Whether you are a believer or not, the value of this experience can't be overstated.
Truly, truly grateful."
- Michael Coleman, Actor
"Alison's menu was too much for this decision-paralyzed libra, but I sent her a note with outlines of a question and a proposal that I'd like a session with the Pokemon deck. What I got was insightful and wonderful! I'm only a novice at Pokemon Go, so the descriptions were great, and at least 1/3 of the cards were ME and Alison and I have not actually met. She adapted her reading to my question and thought of approaches that I hadn't. I'll be happy to do it again some time!"
- Walter, British Columbia, Canada
"Alison is very gifted in the ways the utilizes her cards, especially with the Star Wars deck, it was cool how she used the strengths and weaknesses in each character and used that towards guiding me through it. There was a lot of self reflective information she shared to help me along my journey. And I really appreciate that follow up after some time has passed after the reading. Very genuine and caring were the vibes I got from her gifts that she shared."
- April, Nova Scotia, Canada
"I had an online Tarot reading with Alison utilizing the Star Wars Tarot cards. Not only did I find her reading was clear and accurate, but I could relate to the characters on the Tarot cards, having watched the movies. Actually the online reading is very helpful. Everything is written down for you to refer to later. I find when I'm at a personal reading, I tend to forget some of the important messages or am busy writing notes and missing nuances."
- Terri, British Columbia, Canada
"Alison is amazing! Her tarot reads are fun and insightful! There are so many unique spreads and deck choices that you'll always have something suited to your needs. Highly recommend!!!"
- Amanda, British Columbia, Canada
"Just last week I decided to make a new 5 year goal and one of the cards in my reading today with Alison validated that it was time to make a 5 year goal. It said those exact words. The reading also specifically referred to spending my next year in a world that I create with my imagination, I am a watercolour artist and a novelist and spend most of my time in my made-up world, storytelling. That sung to me! One of my weaknesses is that I have a high tolerance level for ppl who do not have my best interest in mind and this reading also reminded me of using boundaries with acquaintances that take advantage of kindness. Great reading!"
- Tracey, British Columbia, Canada
 What people are saying about Alison's Artwork
5 out of 5 stars!
"Absolutely love this art! The artist is extremely talented. She created an amazing scene that draws you right into it. I am thrilled with this purchase."
- Debbie, Ontario, Canada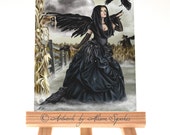 5 out of 5 stars!
"Such a beautiful bookmark. Thank you for packing it so well. Super Fast Shipping...Great Customer Service 😊. I will definitely be shopping at your storefront in the very near future. Blessed Be!!!"
- Melinda, Texas, USA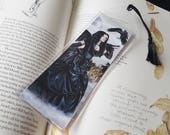 5 out of 5 stars!
"Looks absolutely GORGEOUS hanging framed on our wall! Thank you, would def. buy from again!! :) A+++++ Seller"
- Rachel, California, USA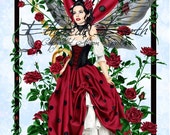 5 out of 5 stars!
"This is my favourite piece by this artist, so had to get it in more than one format. This bookmark is lovely & perfect for a bigger book. Well-protected. Makes me smile whenever I open my book up!"
- Chase, British Columbia, Canada
5 out of 5 stars!
"I love fairies and spiders and not losing my keys so this was a perfect find. Quality and price are great and shipping from Canada was fast. Thanks much! :)"
- Anonymous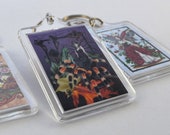 5 out of 5 stars!
"I love it. The colors are amazing."
- Brenda, North Carolina, USA